Someday I may look back on this blog post and reflect on how lucky I was to be able to sneak a rustic Tahoe trip into a a gap of time sandwiched between a global pandemic, buying my first house and switching jobs. I have always been the type to seize an opportunity- especially if it means some socially- distanced adventures and seeing one of my best friends (it had been TWO whole years) before public life (may or may not) shut back down.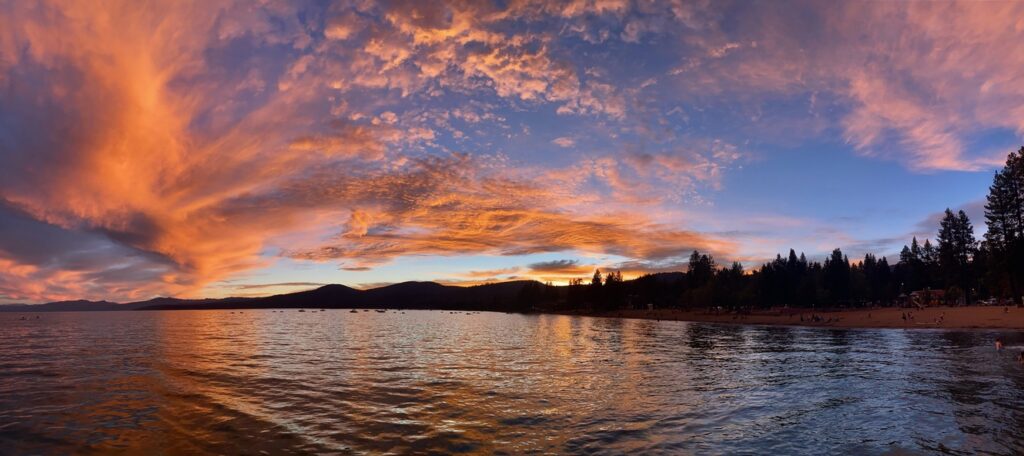 Despite all of this, I made time to research some go-to spots around the lake. Being a very visually motivated person- I didn't really take into consideration HOW to get to some of these locations… but more on that later.
I will say this- I didn't know much about Lake Tahoe… I just knew it was beautiful and that I wanted to go. Being from Michigan, I assumed it was the size of one of our small, central lakes. Maybe a few miles around. UHM no. Driving the perimeter of Lake Tahoe can take up to THREE hours and its 72 miles around. For this reason, it is important to consider what you are planning on doing while you are there so that choosing a place to stay is more convenient and central to any hikes, lookouts or restaurants you would like to go to.
I also feel like its worth mentioning for people that are totally unfamiliar with the area that the lake is split up into North Lake Tahoe and South Lake Tahoe. Both sides have different vibes so depending on what kind of experience you are looking for would depend on where you want to stay. From what I understand, South Lake is more of a younger, party vibe and North Lake is more family-esque and low key. We stayed in North Lake Tahoe.
I delved into a lot of research about which specific hikes I wanted to do and where I would end up with the best tree lined, sun soaked views of the lake. In all honesty, as long as you have a general idea of what you would like to see, it's not super important to plan out every single hike. The trails are EVERYWHERE and if you head in the general direction of where you want to go- you will find a trail.
Thats not to say that some of them aren't HARD. Which leads me into my first excursion- Secret cove.
Secret Cove– North Lake Tahoe (Nevada Side)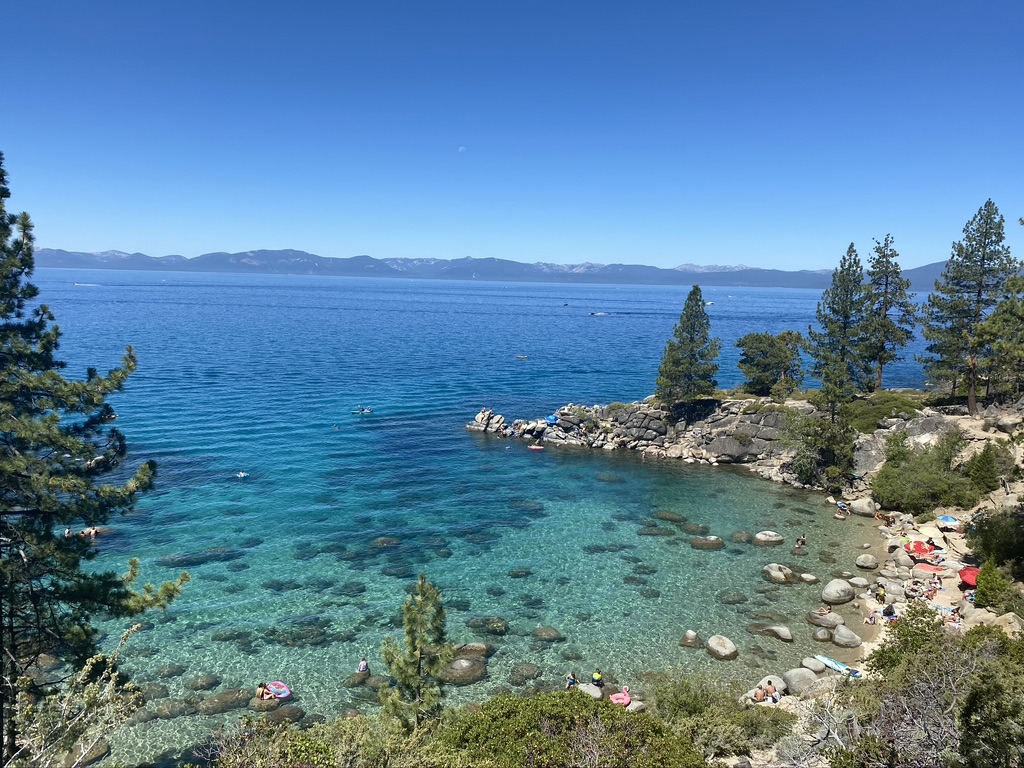 FIRST OFF- when you google the trail to get to secret cove it says "the trail is steep at first and then mellows out to a gentle 3/4 mile walk"….. the trail is steep the ENTIRE way. It is virtually like walking down into a sand pit. On the way down my friend and I saw some poor souls lugging a rolling cart back up to their cars, exasperated and drenched in sweat. Many blessings to them because I could barley maneuver the trail with my tiny backpack and Birkenstock's.
Once you do start to see the cove, it's like reaching the holy land. The beach itself is very small but crystal blue with large, smooth rocks scattering the surface. The cove used to be a little secret between locals but now lots of tourists hoard there for the views and relaxed vibe… or the fact that clothing is optional. Our greeting upon entering the base of the beach was a very old naked man yelling at everyone that the beach was full… we receded to a nearby cluster of rocks where people were sunbathing and swimming to shelter our eyes and avoid a naked brawl. By the way, the water is ICE cold. When I finally took the plunge I thought my heart had stopped beating for a minute or two.
The large quarries of rocks, pure sun and ice-cold water made the steep trudge down to the cove worth it. We knew we had the climb going back up to look forward to, so we brought a lot of water and sunscreen. The sun is unforgiving and the higher altitude can be deceiving. Walking back up to the car was no small task. We took frequent breaks but were dirty, sweaty and exhausted by the time we made it back to the car. This spot is worth the views but is not for the faint heart. I honestly have no idea how some of the older people at the beach made it down in one piece.
Tahoe Vista and Kings Beach– North Lake Tahoe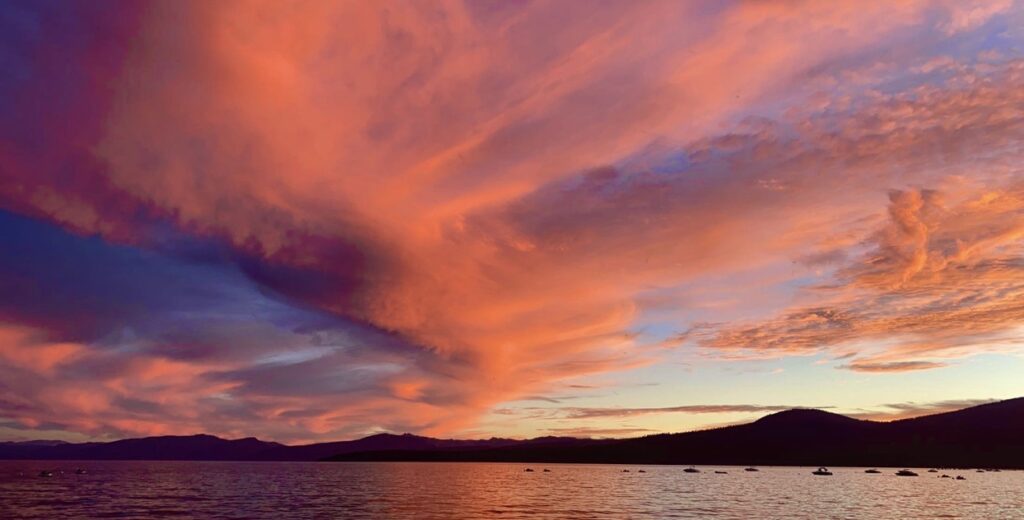 We stayed at an adorably rustic air bnb in North Lake Tahoe, right around the corner from Kings Beach. Kings beach is a quaint little town with a great walking strip dotted with ice cream shops, restaurants and views of the water. There is a lovely dock (Geo-tagged in my phone as Tahoe Vista) right in town where we caught this GORGEOUS sunset our second night, a water-colored masterpiece! Kids were happily jumping off the dock while I ate ice cream and gawked at the swirling, cotton candy skies.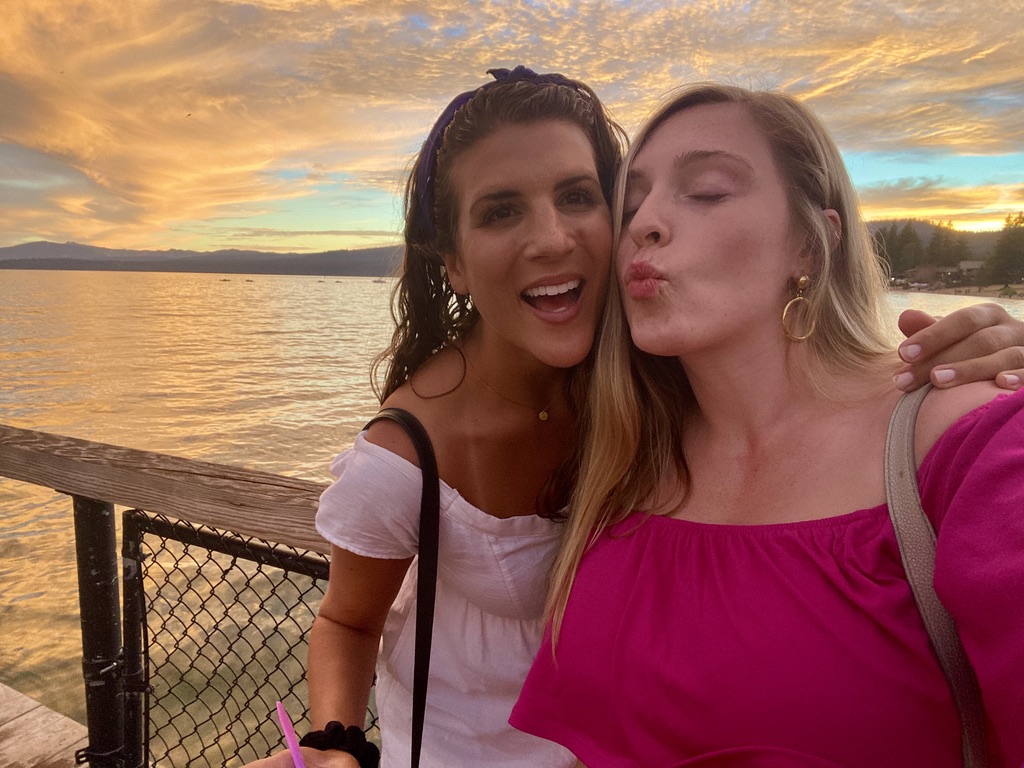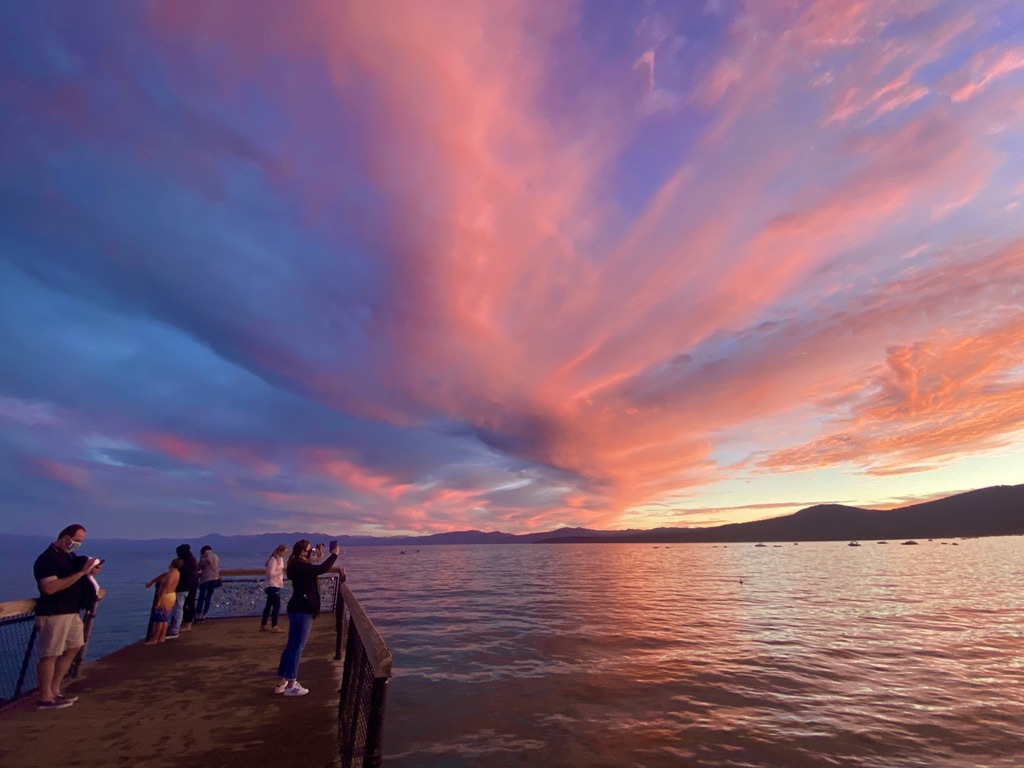 Every time I saw pictures of Tahoe there was always a killer sunset in the mix. I am very grateful we were able to experience the beauty of these mid-summer skies. I highly recommend staying at Kings Beach if you are looking for access to amazing hikes, great restaurants and a charming, easily walkable town.
Emerald Bay– South Lake Tahoe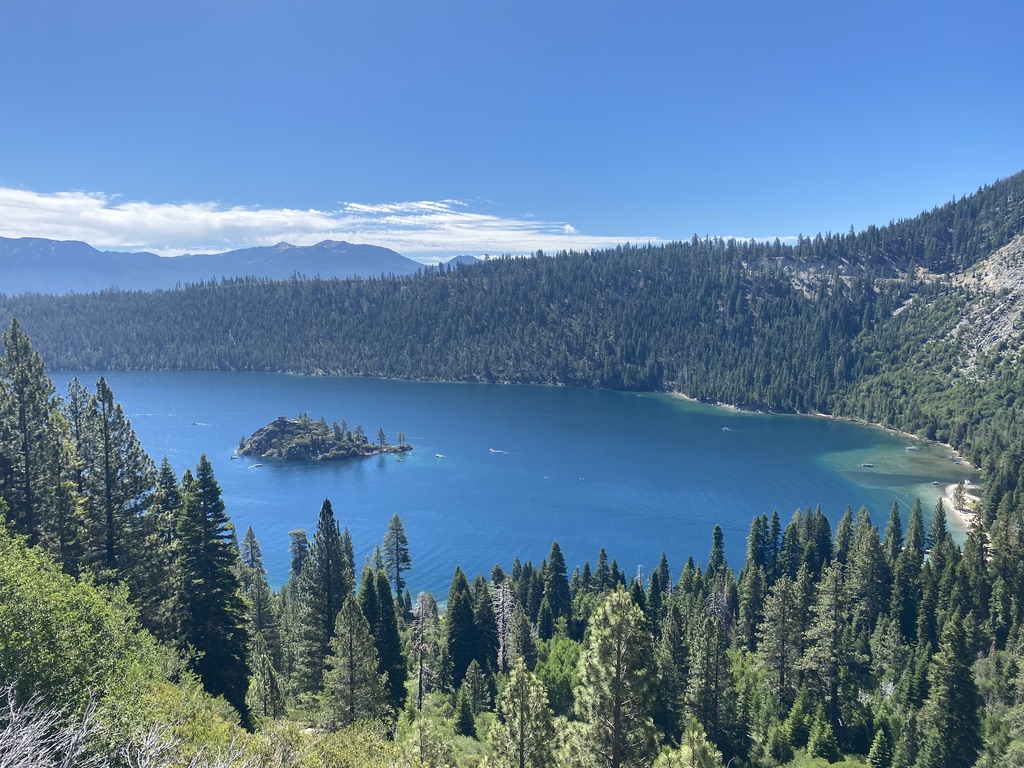 Probably the most well-known spot in Lake Tahoe is Emerald Bay State Park, with Fannette Island sitting right in the middle. The area boasts eagle falls which has an adjacent trail, as well as Vikingsholm, one of the first summer homes in Lake Tahoe and one of the finest examples of Scandinavian architecture in the United States. (Tours were closed because of Coronavirus, otherwise I would have loved to see the inside)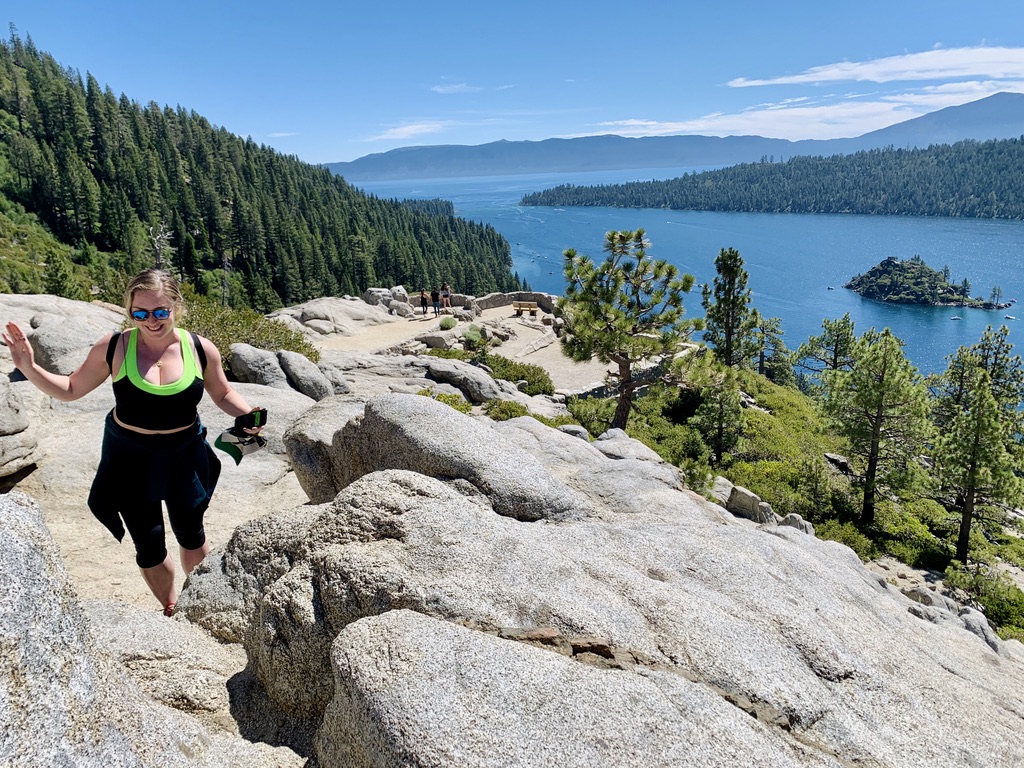 Parking and walking down the trail to the base of Emerald bay is really straight forward. I thought I would need to research trails in order to find a convenient one (god forbid we got lost) but there is a walking path (still relatively steep) that leads down to the bay with beautiful views of the water, bathrooms, and the beginning of the Eagle Falls Trail.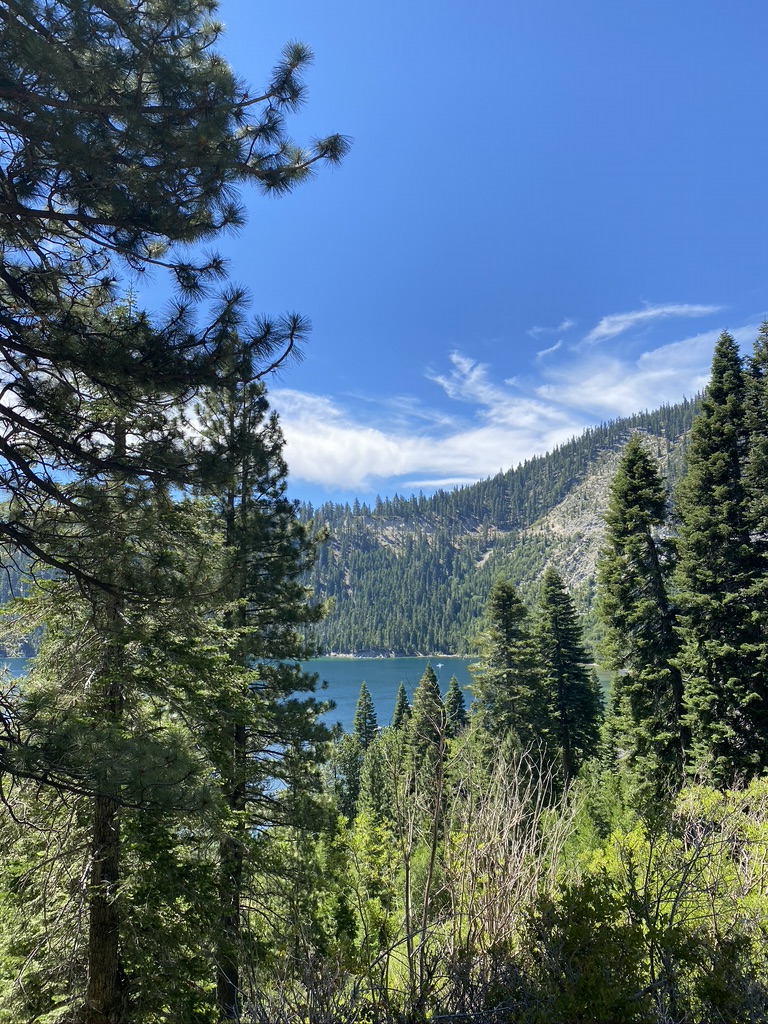 We walked a mile or two of the Eagle Falls Trail and then decided to head back the way that we came down, but the trail itself is not too long and well marked. If you want to spend some time exploring the main areas of Emerald Bay, I highly recommend the hike down and around Eagle Falls to get the full experience!
Eagle Rock Trail– Mid- Lake Tahoe?!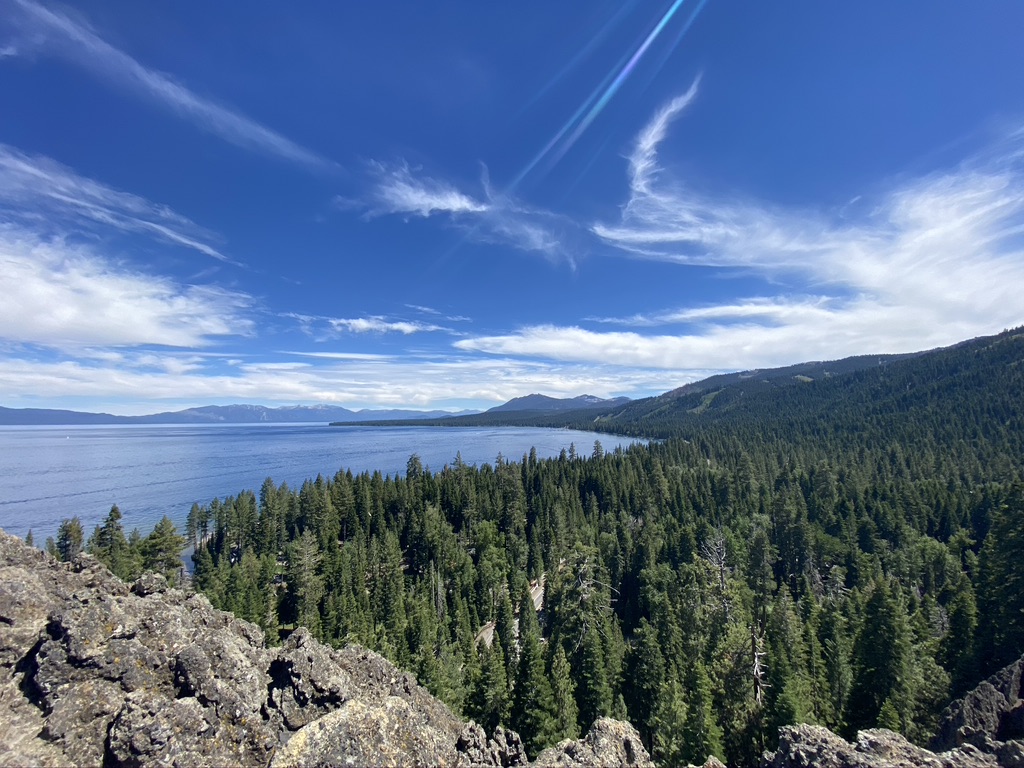 Eagle Rock is easy to find, but easy to miss. This is another popular spot with a smooth .4 mile hike up to cliffs between North and South Lake Tahoe. I recommend this spot for a great panoramic moment with the lake. Just be very careful because it is extremely rocky and unstable.
My restaurant recommendation: Jake's on the Lake!– Tahoe City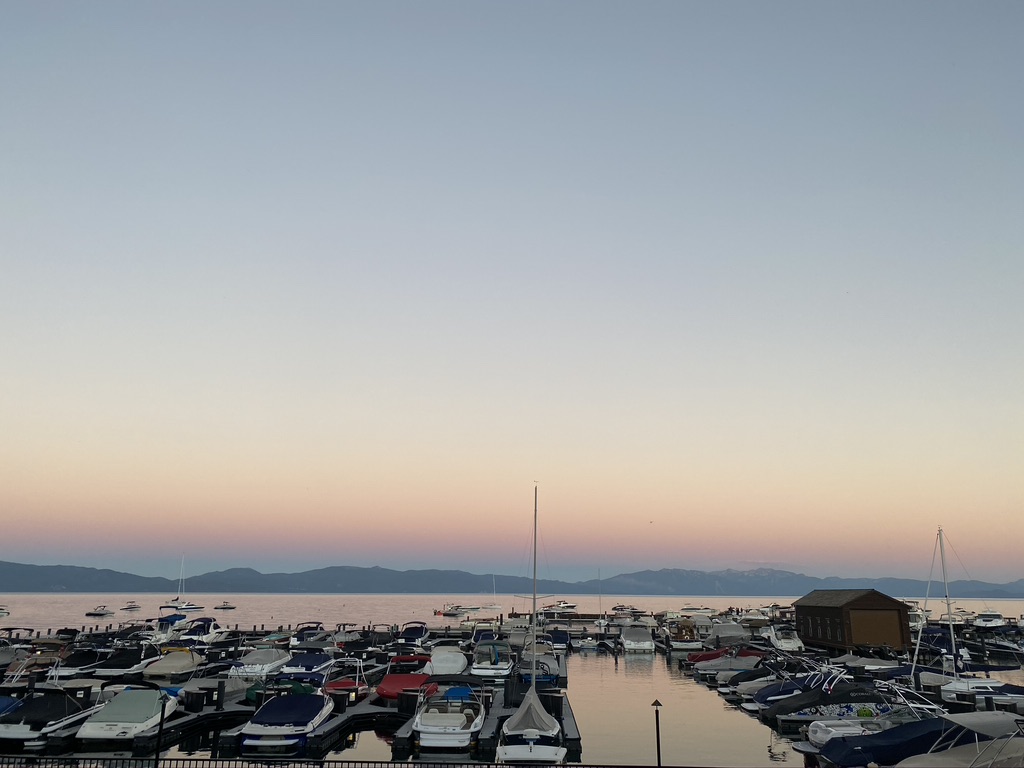 The Food. That is all. Its a Lake Tahoe Staple with gorgeous marina views and.. HULA PIE. How I have survived 27 years on this earth without experiencing this ice-cream- cookie crumble crust- whipped cream- fudgey delight is something I will forever lament. It even comes on its own cute little plate! I also had a melt in your mouth braised short rib dish with sweet carrots and some fresh oysters with mignonette sauce. TO DIE!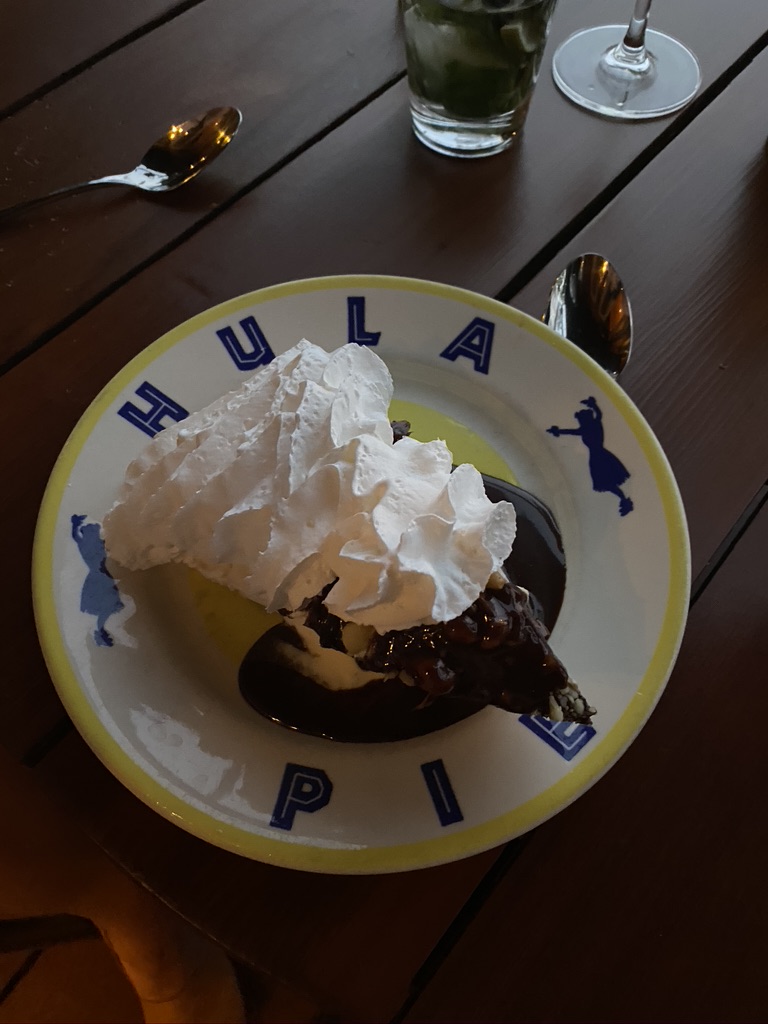 And there you have it folks! Go to Lake Tahoe, eat hula pie, and dive into some heart-stoping H2O!
In that order 🙂